Posts for: December, 2017
By Central Texas Family Dental
December 24, 2017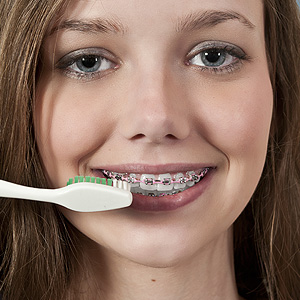 Your child has had braces for a few months and making good progress with correcting a poor bite (malocclusion), but you've also noticed something else: his gums are becoming red and swollen.
These are symptoms of gingivitis, a periodontal (gum) disease. It's an infection that arises when plaque, a thin film of bacteria and food particles, isn't adequately removed from teeth with daily brushing and flossing. The braces increase the risk for gingivitis.
This is because the hardware — metal or plastic brackets cemented to the teeth and joined together by metal bands — makes it more difficult to reach many areas of the teeth with a brush or floss string. The plaque left behind can trigger an infection that causes inflammation (swelling) and bleeding.
To exacerbate the situation, gums don't always take well to braces and can react by overgrowing. Wearing braces may also coincide with a teenager's surge in hormones that can accelerate the infection. Untreated, gingivitis can develop into advanced stages of disease that may eventually cause tooth loss. The effect is also heightened as we're orthodontically putting stress on teeth to move them.
You can stay ahead of gingivitis through extra diligence with daily hygiene, especially taking a little more time to adequately get to all tooth surfaces with your brush and floss. It may also help to switch to a motorized brush or one designed to work around braces. You can make flossing easier by using special threaders to get around the wires or a water flosser that removes plaque with a pulsating water stream.
And don't forget regular dental visits while wearing braces: we can monitor and treat overgrowth, perform thorough dental cleanings and treat occurrences of gingivitis. In some cases you may need to visit a periodontist, a specialist in gums and supporting teeth structures, for more advanced treatment. And if the disease becomes extensive, the braces may need to be removed temporarily to treat the gums and allow them to heal.
Orthodontic treatment is important for not only creating a new smile but also improving your teeth's function. Keeping a close eye out for gum disease will make sure it doesn't sidetrack your efforts in gaining straighter teeth.
If you would like more information on dental care during orthodontics, please contact us or schedule an appointment for a consultation. You can also learn more about this topic by reading the Dear Doctor magazine article "Gum Swelling During Orthodontics."
By Central Texas Family Dental
December 09, 2017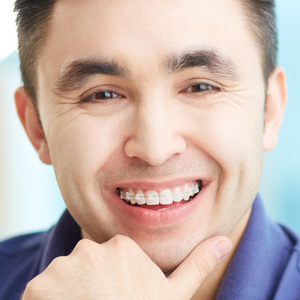 It's something you think about often—especially when you look in a mirror or at a photo of yourself. You wish something could have been done about it a long time ago. But now you think you're too old to correct your misaligned teeth—your "crooked" smile.
Actually, you can transform your smile through orthodontics, whatever your age. Millions of your peers have done just that—currently, an estimated one in five orthodontic patients is an adult.
If orthodontics isn't right for you it won't be because of age, but most likely the condition of your gums and underlying bone or your overall health. That first factor is extremely important: if you've lost a significant amount of bone due to periodontal (gum) disease, there may not be enough to support the force of moving the teeth during orthodontics.
Health conditions like severe heart-valve disease, uncontrolled diabetes or drugs to treat arthritis or osteoporosis can also make tooth movement difficult. And, if you have restricted saliva flow (dry mouth), wearing orthodontic devices could be uncomfortable and increase your risk of tooth decay.
If, however, your mouth and body are reasonably healthy (and you don't have a difficult bite problem to correct), there's no reason why you can't undergo orthodontic treatment. The only other thing that might hold you back is concern over your appearance during treatment. Many adults balk at the possible embarrassment of wearing metal braces "at their age."
If this is a concern, you may have an alternative: clear aligners. These are a series of computer-generated clear plastic trays that conform to the individual contours of your teeth. Each tray is slightly different—you wear one for a short period of time (usually two weeks) before moving on to the next tray to successively and gradually move your teeth. They're nearly invisible to others and, unlike fixed metal braces, you can take them out for a rare special occasion.
The only way you'll know whether correcting your misaligned teeth is a viable option is to undergo a full orthodontic evaluation. From there we can help you decide if and how you want to gain a straighter, more attractive smile.
If you would like more information on adult orthodontics, please contact us or schedule an appointment for a consultation. You can also learn more about this topic by reading the Dear Doctor magazine article "Orthodontics for the Older Adult."