Posts for: April, 2017
By Central Texas Family Dental
April 27, 2017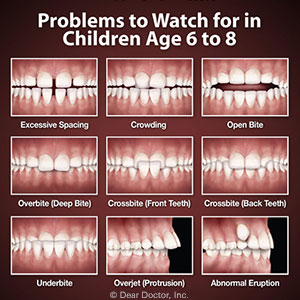 You may not always be able to tell if your child's bite isn't developing properly. Â That's why you should have them undergo an orthodontic evaluation around age 6 to uncover any emerging problems with tooth misalignment.
Still, there are some visible signs all's not well with their bite. As the primary (baby) teeth give way, the permanent teeth erupt sequentially around ages 6 to 8. As they come in, you should notice that each tooth fits uniformly next to each other without excessive gaps or, on the other end of the spectrum, not crowded together in crooked fashion. Upper teeth should also fit slightly over the lower teeth when the jaws are shut.
If their teeth appearance deviates from these norms, they may have a bite problem. Here are 4 abnormalities you should watch for.
Underbite or deep bite. As we mentioned, the front teeth should cover the lower teeth with the jaws shut. In an underbite, the reverse happens — the lower teeth are in front of the upper teeth. It's also a problem if the upper teeth cover the lower teeth too much (often referred to as "deeply").
Open bite. This occurs when there's a gap between the upper and lower front teeth while the jaws are shut together. One possible cause is late thumb sucking, which can put undue pressure on the front teeth and cause them to develop too far forward while forcing the bottom front teeth further backwards.
Crossbites. This kind of bite occurs when some of the teeth don't fit properly over their counterparts, while others do. Crossbites can occur anywhere in the mouth, for example the upper front teeth fitting behind the lower front teeth while the back teeth overlap normally, or the reverse (front normal, back abnormal).
Misalignments and Abnormal Eruptions. Sometimes upper teeth may align too far forward, a situation known as protrusion. Conversely, lower teeth (or the jaw itself) may come in too far back (retrusion). Because a primary tooth might be out of position or not lost in the proper sequence, a permanent tooth might noticeably erupt out of its proper position.
If you notice any of these situations with your child's teeth see your dentist or orthodontist soon for a full examination. If caught early, we may be able to take action that will lessen or even eliminate the problem.
If you would like more information on treating bite problems, please contact us or schedule an appointment for a consultation.
By Central Texas Family Dental
April 12, 2017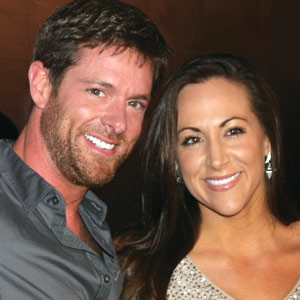 For anyone else, having a tooth accidentally knocked out while practicing a dance routine would be a very big deal. But not for Dancing With The Stars contestant Noah Galloway. Galloway, an Iraq War veteran and a double amputee, took a kick to the face from his partner during a recent practice session, which knocked out a front tooth. As his horrified partner looked on, Galloway picked the missing tooth up from the floor, rinsed out his mouth, and quickly assessed his injury. "No big deal," he told a cameraman capturing the scene.
Of course, not everyone would have the training — or the presence of mind — to do what Galloway did in that situation. But if you're facing a serious dental trauma, such as a knocked out tooth, minutes count. Would you know what to do under those circumstances? Here's a basic guide.
If a permanent tooth is completely knocked out of its socket, you need to act quickly. Once the injured person is stable, recover the tooth and gently clean it with water — but avoid grasping it by its roots! Next, if possible, place the tooth back in its socket in the jaw, making sure it is facing the correct way. Hold it in place with a damp cloth or gauze, and rush to the dental office, or to the emergency room if it's after hours or if there appear to be other injuries.
If it isn't possible to put the tooth back, you can place it between the cheek and gum, or in a plastic bag with the patient's saliva, or in the special tooth-preserving liquid found in some first-aid kits. Either way, the sooner medical attention is received, the better the chances that the tooth can be saved.
When a tooth is loosened or displaced but not knocked out, you should receive dental attention within six hours of the accident. In the meantime, you can rinse the mouth with water and take over-the-counter anti-inflammatory medication (such as ibuprofen) to ease pain. A cold pack temporarily applied to the outside of the face can also help relieve discomfort.
When teeth are broken or chipped, you have up to 12 hours to get dental treatment. Follow the guidelines above for pain relief, but don't forget to come in to the office even if the pain isn't severe. Of course, if you experience bleeding that can't be controlled after five minutes, dizziness, loss of consciousness or intense pain, seek emergency medical help right away.
And as for Noah Galloway:Â  In an interview a few days later, he showed off his new smile, with the temporary bridge his dentist provided… and he even continued to dance with the same partner!
If you would like more information about dental trauma, please contact us or schedule an appointment for a consultation. You can learn more in the Dear Doctor magazine articles "Trauma & Nerve Damage to Teeth" and "The Field-Side Guide to Dental Injuries."